I Was Wrongfully Terminated In California, Can I Sue My Former Employer?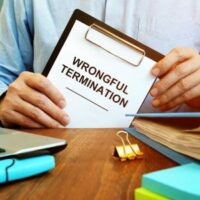 Losing your job can be emotionally and financially stressful. Losing your job due to wrongful termination can make you feel helpless, as the situation was potentially out of your control. If you believe your termination from your job may have been wrongful, contact The Garza Firm for an evaluation of your claim. We are based in Newport Beach and strive to provide Californians with options that do not include litigation. The Garza Firm are not only statewide leaders, but nationwide leaders in our work and are ready to fight for you.
What Does It Mean To Be Wrongfully Terminated?
While getting fired from any job does not make anyone feel good, there is a difference between being fired and being wrongfully terminated. In California, employees are generally considered employed "at-will." At-will employment means that you can be terminated and are not necessarily protected. For example, if you had a contract for a certain term of work you could not be fired during that term. However, in certain situations, it is still illegal for employers to terminate a California employee, even where the employee is "at-will."
Wrongful termination can occur if the employee has an oral or written contract of employment that was breached by the employer, the employee complained of discrimination, harassment or other illegal activity and was terminated for doing so, the employee refused to engage in illegal activity, or the employer terminated the employee because of the employee's refusal to commit an illegal act.
Examples of Wrongful Termination
California state law details specific instances where an employer cannot terminate their employee. One such example is that employers cannot terminate or in any manner discriminate or retaliate against an employee who is a victim of domestic violence, sexual assault, and/or stalking, who is a victim of a crime that caused physical injury or that caused mental injury and a threat of physical injury. The victim is entitled to take time off from work to obtain or attempt to obtain relief to help ensure his or her health, safety, or welfare, or that of his or her child or children without losing their job. The same law also states that the worker should try to provide reasonable advance notice if possible.
Another example of prohibited conduct under California's wrongful termination law is that employers cannot retaliate against an employee who is the parent of a child for taking off up to 40 hours a year. The employee is not entitled to more than 8 hours per month, to participate in the child's school activities, to locate or enroll the child in school or child care, or for school emergencies (no 8 hour restriction for school emergencies).
The Garza Firm Can Help.
Being terminated is never easy and when wrongful, can make you feel powerless. If you suspect you were subject to a wrongful termination, it is crucial you reach out to qualified and talented California wrongful termination attorneys. The attorneys at The Garza Firm, located in Newport Beach, can assist you with evaluating your claim and explaining your options based on the unique facts of your case. As leaders in this field, we are eager to talk to you. Call us at 949-570-8350 today.
Source:
leginfo.legislature.ca.gov/faces/codes_displaySection.xhtml?lawCode=LAB&sectionNum=230.8